Trends come and go in the interiors world, just as they do in fashion and beauty, but there are some styles which are ever-popular. After all, when are mid-century living room ideas not desirable? Check out these incredible mid-century living room ideas to steal that effortlessly retro style!
---
SEE ALSO: 40 Undeniably Cool Living Room Ideas That We Want to Copy ASAP
---
01. Put wood at the centre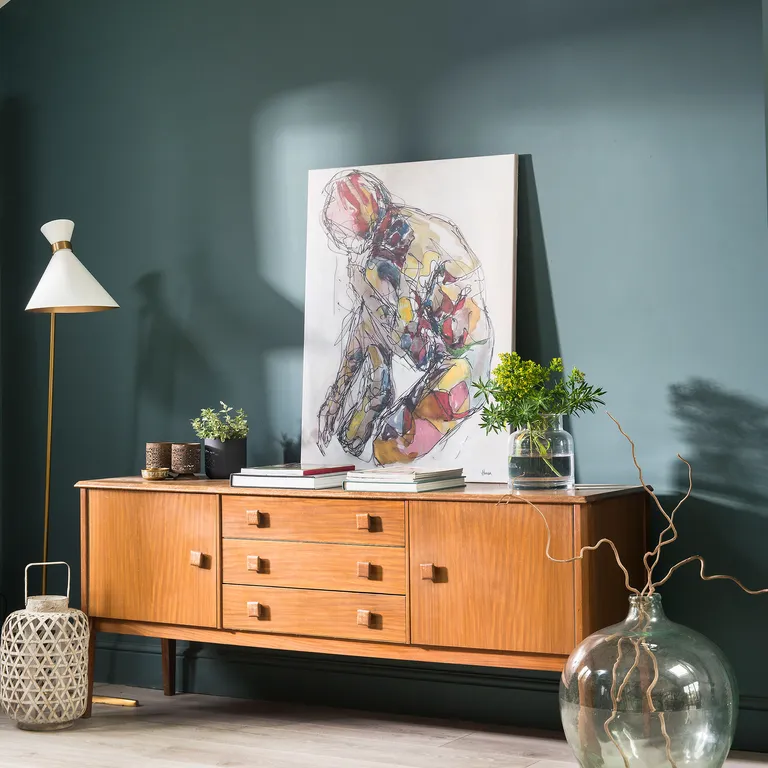 "The key ingredient to creating mid-century living room ideas really is simple – it's wood,' explains,' Ross Taylor, Co-Founder, The Curious Department. 'Wood furniture or wood cladding and strip work. Of course there are other key ingredients like low rise furniture, leather seats and oversized pictures. But wood really is the key to midcentury.'
02. Choose a retro colour combo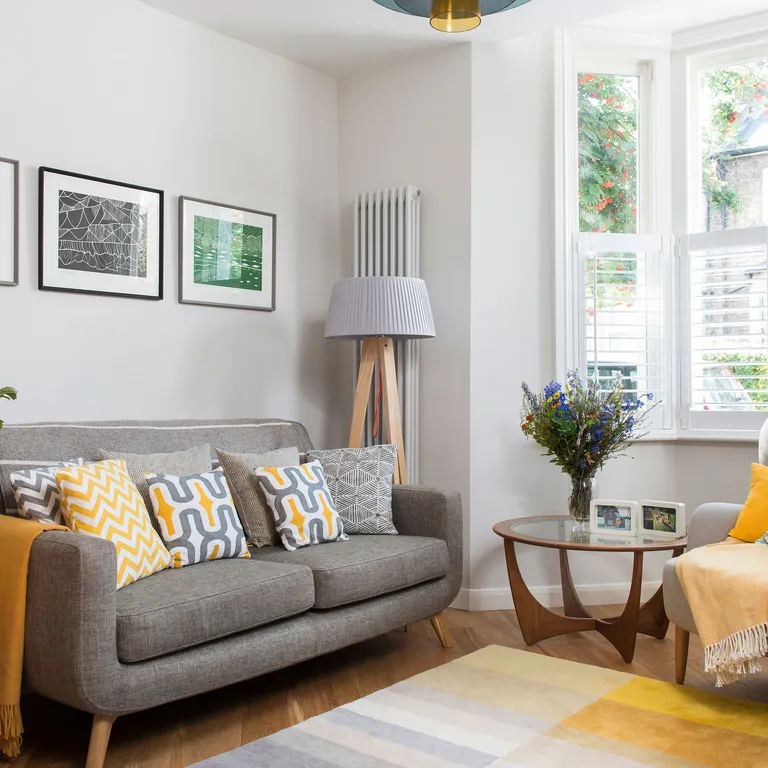 Of all the colour combinations out there, few shout mid-century quite like yellow and grey living room ideas. This classic pairing immediately offers up a retro feel, but your choice of the tones can adjust what type of mid-century modern living room ideas you achieve.
03. Add touches of bronze
For that extra hit of contemporary style, make sure you're mixing materials – and not just fabrics and woods. Touches of metallics, particularly bronze or burnished gold, will add a feeling of light to the space, while also elevating it with a sprinkle of luxury.
04. Use original pieces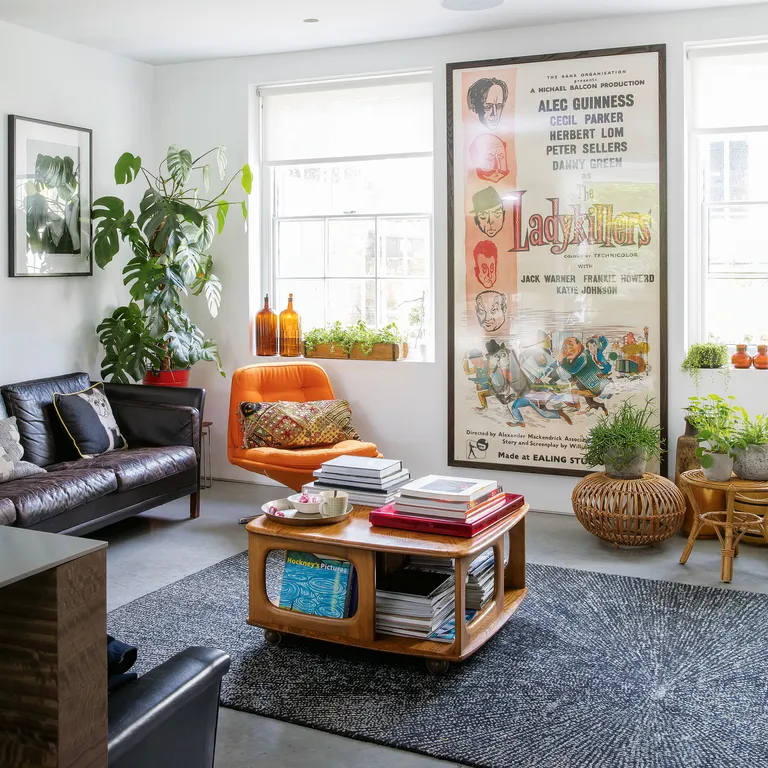 'Decorating for mid-century starts with sourcing the right furniture,' advises Ross from The Curious Department. 'We often find ourselves at second hand furniture stores, or on online marketplaces to find the real deal.'
05. Keep it simple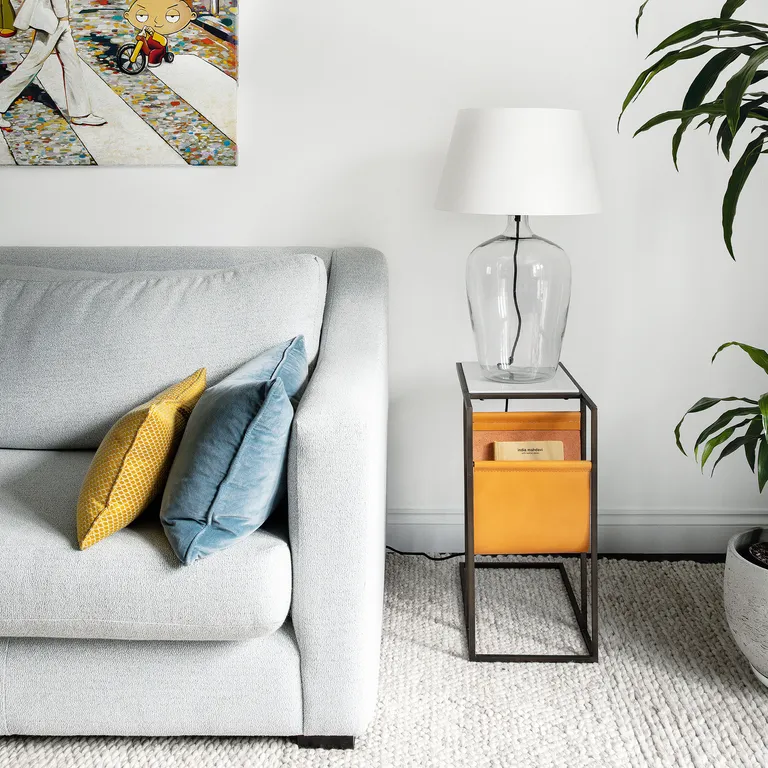 Lean into the modern element of mid-century modern living room ideas by integrating in touches of Scandi chic. When learning how to design a living room, remember that you don't have to subscribe unilaterally to one theme.
06. Include a retro print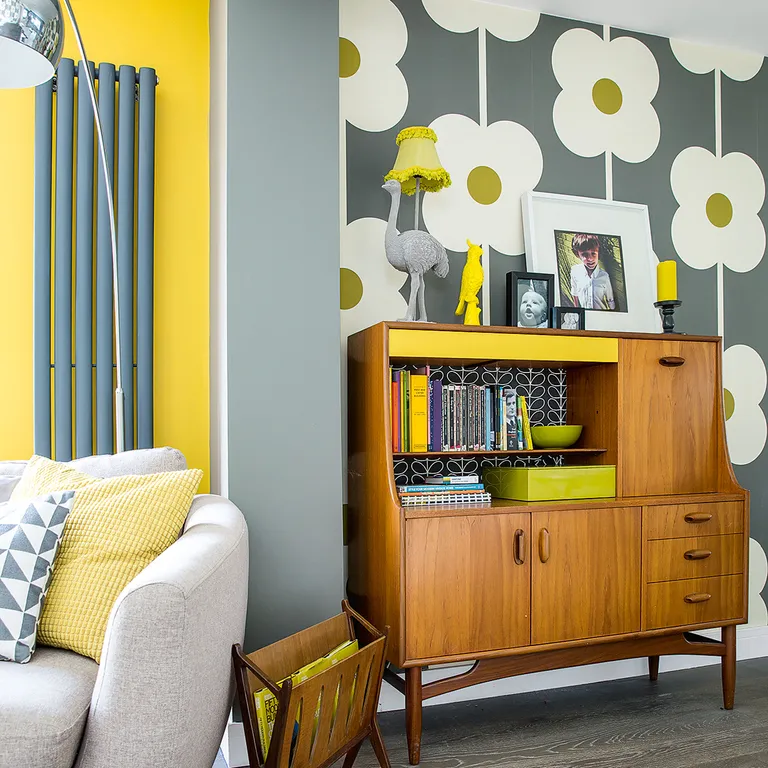 For one of the bolder mid-century living room ideas, don't stop with vintage furniture or colourways. Make a statement with either a whole room of, or feature wall showcasing a retro print. To make your living room wallpaper ideas link seamlessly in with the rest of your design, use the main colours from the print in the rest of your decorating scheme.
07. Include wall panelling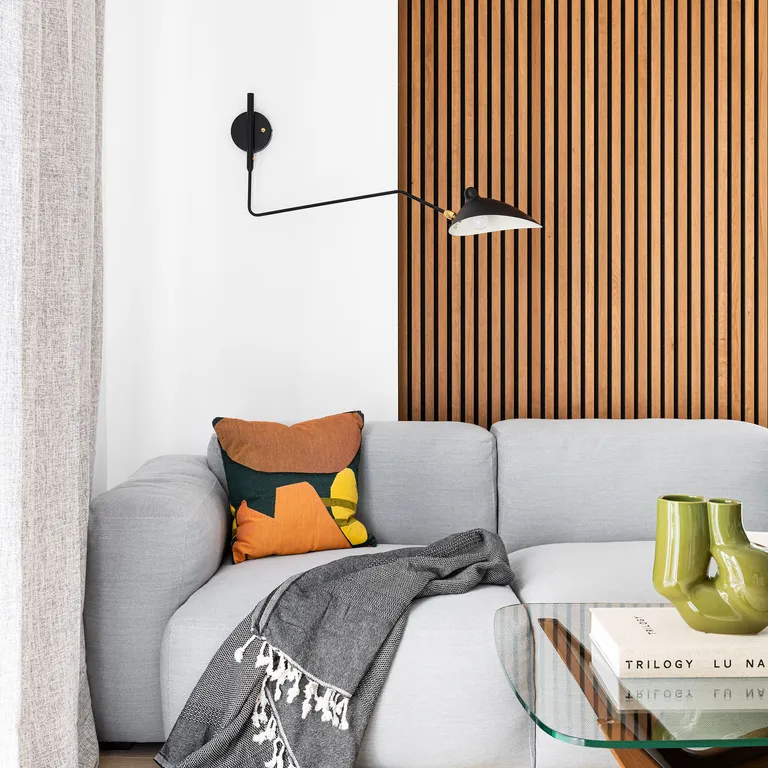 Add depth to your space with wall panelling ideas in your living room. They have a retro feel and will tie in beautifully to the wood you're using elsewhere. To keep things contemporary, opt for a section of panelling rather than a full wall. This will also help things appear cleaner and sleeker.
08. Embrace the curves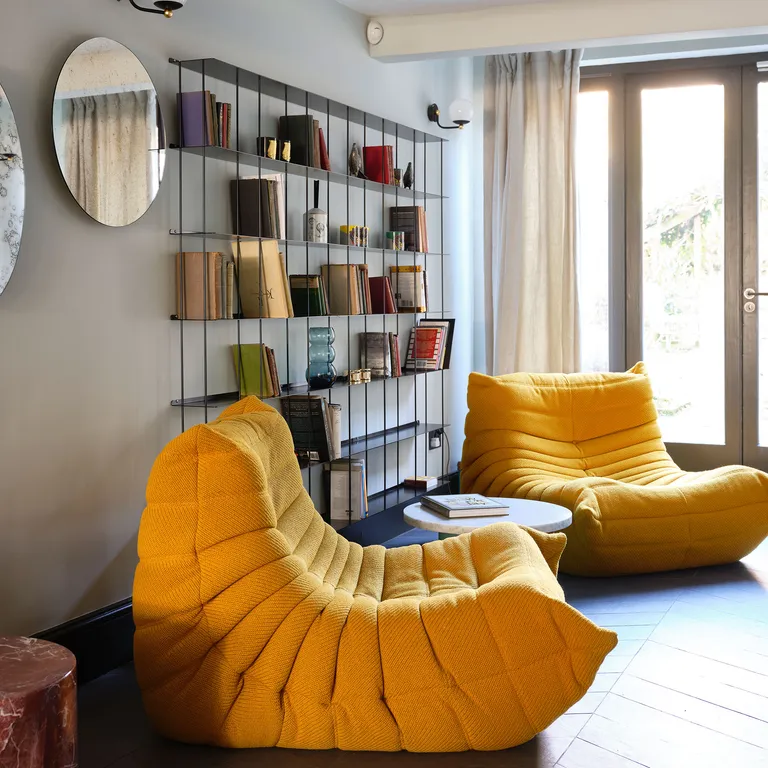 A lot of mid-century lounge furniture showcases exaggerated, round shapes. Seats and sofas will appear so low and louche – and incredibly comfy. Choose rounded, armless designs for the softest retro seating imaginable.
09. Look for statement lighting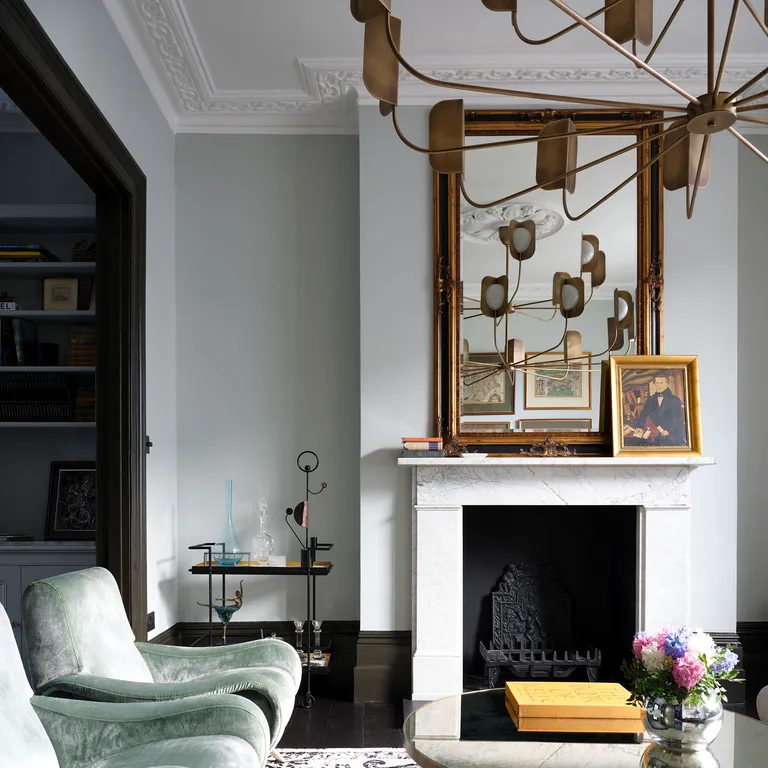 Rather helpfully if you're into the trend, but mid-century style living room lighting ideas are having a serious moment. Curved floor lamps are key to this look, but nothing quite sets off a space like a statement ceiling light.
10. Make your furniture float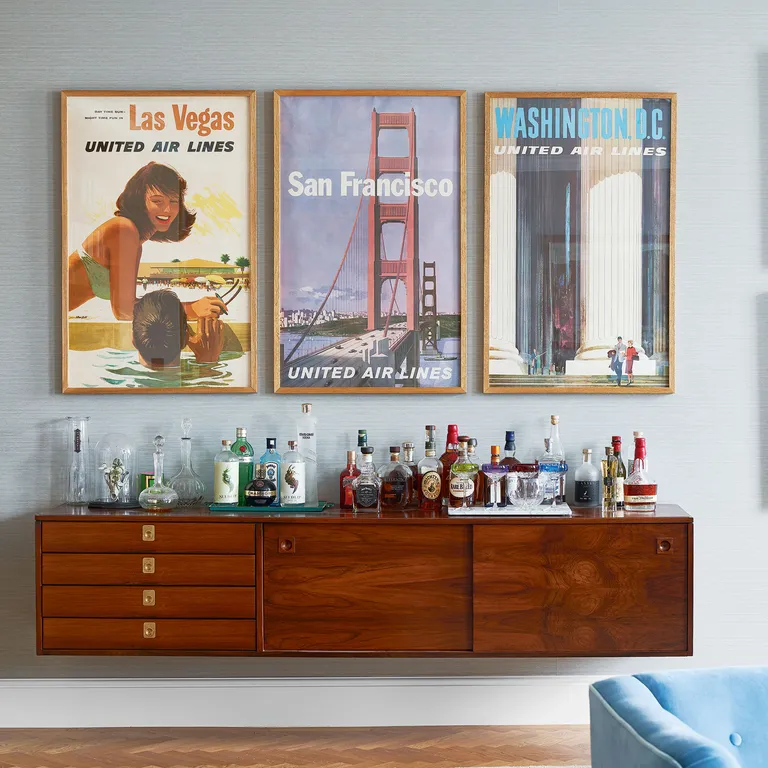 Seemingly effortlessly floating furniture just screams mid-century. Keep these floating living room storage ideas low to the floor for an authentic feel. Make sure you keep the space underneath clear at all times, as a cluttered floor space goes against the chic simplicity you're aiming for.
---
READ MORE: 20 Stylish Brown Living Room Ideas You Hadn't Thought to Try
---
We hope you liked our picks for Mid-Century Living Room Ideas To Steal That Effortlessly Retro Style. Feel free to pin all the images to your favorite Pinterest board or to print it and use in your mood board. Don't forget to explore our Pinterest boards for more Living Room Ideas. Subscribe to our newsletter and receive the best tips in your email box.